New Mallory Sonalert 22mm Miniature Panel Alarms
Featured Product from New Yorker Electronics Co., Inc.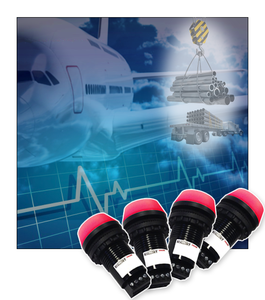 New additions to Mallory Sonalert's ZT Miniature Panel Alarm Series, the 22mm Panel Alarms with Red LED Lights, mean more options and flexibility.
Last year, New Yorker Electronics added Mallory Sonalert models in this series with the ability to emit both light and sound alarms. They will now also carry this new series with two additional capabilities: multi-tone sound options and independent control sound and light alarms. These models are designed for a wide range of applications including transportation, industrial controls and medical equipment.
Mallory is now offering eight new multi-tone sound options in models with either 16Vdc or 28Vdc voltages. Each alarm part number can produce four different sounds in a single package. Ten different tones are available: continuous, slow pulse, fast pulse, chirp, slow chime, fast chime, slow warble, fast warble, slow siren and fast siren. The tones are offered in the following eight combinations: MT1: Continuous, Slow Pulse, Fast Pulse, Chirp; MT2: Continuous, Slow Pulse, Fast Pulse, Slow Chime; MT3: Continuous, Slow Pulse, Fast Pulse, Fast Chime; MT4: Continuous, Slow Pulse, Fast Pulse, Slow Warble; MT5: Continuous, Slow Pulse, Fast Pulse, Fast Warble; MT6: Continuous, Slow Pulse, Fast Pulse, Fast Siren; MT7: Continuous, Slow Pulse, Fast Pulse, Slow Siren; and MT8: Continuous, Fast Pulse, Slow Chime, Slow Warble.
An example of this new product line is new P/N ZT028LDMT8R, which is a 28Vdc, loud, multi-tone audible alarm with a red LED light, which blinks in tandem with each of the 4 different audible alarm sounds (continuous, fast pulse, slow chime and slow warble). The four sounds are activated using two control wires in addition to the power connections.
These new multi-tone alarms provide cost savings as well as improvements in safety and efficiency. Applications which require two or more alarm sounds would normally require more than one audible alarm unit. This single multi-tone unit can replace the multiple alarms, offering an overall cost savings in both piece part cost and installation cost. Using multiple sounds on a machine can also improve safety and efficiency since the operator will hear different sounds depending on the issue that needs to be addressed on the machine.
The cUL approved 22mm panel mount alarm plus red LED light is a 4-terminal device that can produce four different sounds. When voltage is applied to the two power terminals, the device issues one of four different audible sounds depending on how the two control wires are grounded. The data sheet on each device (below) details how to ground the control wires to generate each sound. When the audible sound is activated, the light also illuminates.
Features & Benefits:
• Fits in Standard 22mm Hole with Keyway
• Finger-proof Safe Termination
• Audible Alarm + LED Light
• dB Distance = 2ft (60cm)
• Optional-Sound can turn off after 15 or 30 seconds & LED continues flashing
• Frequency 3900Hz
• Housing: 6/6 NYLON, Black
• CUL Approved
Applications:
• Industrial Controls
• Transportation
• Medical
New Yorker Electronics is a franchise distributor for Mallory Sonalert and supplies its entire product line of electronic audible alarms and board-level audible devices such as transducers, indicators and sirens.