New Yorker and GETT Electronics sign Agreement
Featured Product from New Yorker Electronics Co., Inc.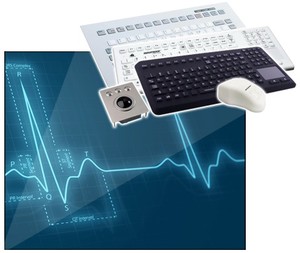 New Yorker Electronics has announced a new franchise distribution agreement with GETT North America of Houston, Texas. GETT is a leading manufacturer of professional operating technology, such as computer keyboards and mice for the industrial and medical market. The GETT Group was founded in Germany in 1996 and is still run by German engineers who design all their products, including fully customized HMI solutions.
As a franchise distributor for GETT North America, New Yorker Electronics supplies its complete line of Medical and Industrial Grade Keyboards and Mice and well as Industrial Trackpads, Trackballs and Switches. GETT North America's industrial computer keyboards, mice and HMI solutions are manufactured under the brand name Indukey. GETT's GCQ brand offers hygienic, washable medical-grade keyboards and mice. GETT products are used in such applications as Medical/Hygiene-sensitive Areas, Aerospace and Aviation, Machinery for Heavy Industry, Industrial Automation and more. GETT designs and manufacturers rugged keyboards made of Stainless Steel, Silicone and Glass as well as washable designs.
"We're pleased to introduce GETT North America to our customers," said Barry Slivka, President of New Yorker Electronics." The GETT Group is now present in top global markets in the form of GETT Germany, GETT Asia and GETT North America which creates a wealth of product options at very competitive pricing."
"New Yorker Electronics and GETT have been experts in this industry for decades," said Pierre Beer, President at GETT North America. "With our unique access to German engineers and New Yorker Electronics exceptional customer service, we are building a strong business relationship that complements our mission to create better human-machine relationships. That's why our rugged computer keyboards and ability to develop fully customized HMI solutions are a perfect addition to New Yorker products and services."
Headquartered in Northvale, NJ, New Yorker Electronics, Co., Inc. (www.newyorkerelectronics.com) is a global franchised distributor of electronic components, value-added services, and supply chain solutions to the world's leading OEMs and contract manufacturers in various markets. Founded in 1948, the AS9120B and ISO 9001:2015 certified company has earned a reputation for delivering superior levels of reliability and customer support while providing direct franchise access to an extensive ready-to-ship inventory of passive, inter-connect, electromechanical and Mil-Spec components, as well as semiconductor devices.