Oil-Filled, Self-Healing AC Motor Run Capacitors
Featured Product from New Yorker Electronics Co., Inc.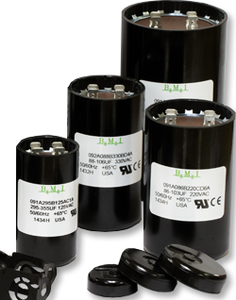 New Yorker Electronics has just released new capacitors from BMI, the 091A and 092A non-polarized aluminum electrolytic AC Motor Start capacitors, designed for intermittent AC duty. Housed in a durable plastic case, these capacitors are moisture and oil resistant and require no added insulation (optional metal cases available).
The 091A and 092A capacitors are used in starting fractional horsepower and are single-phase electric motors. They are also well-suited for in-gear motor applications. They come in eight different case sizes, ranging in size from 1.437in x 2.750in to 2.562in x 4.365in.
Voltage ranges from 110VAC to 330VAC are available. The 091A meets the EIA Type 1 specifications and the 092A meets the IA Type 2 specifications and both are UL Recognized capacitors. Mounting hardware, end caps and brackets are available to facilitate easy mounting.
Units can be supplied with bleeder resistors and lead wires if needed. Dual ¼-inch disconnect terminals come standard, however units are available with single ¼-inch Quick-Connects, Dual ¼-inch Quick-Connects with Resistors, 18-gauge Insulated Wires, Dual ¼-inch Quick-Connects with Resistors and Resistor Lugs and Dual ¼-inch Quick-Connect with Resistors and Lead Wires.
New Yorker Electronics is a franchise distributor of Barker Microfarad and supplies its full line of AC Motor Run Capacitors, Military Spec Capacitors, Mini Axial Capacitors, Mini Radial Capacitors, Tubular Axial Capacitors and Tubular Radial Capacitors.