Next Gen Wi-Fi Embedded Modules
Featured Product from Newark, An Avnet Company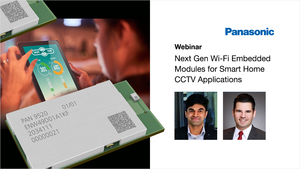 Next Gen Wi-Fi Embedded Modules for Smart Home CCTV Applications
The PAN9520 is a 2.4 GHz 802.11 b/g/n embedded Wi ? Fi module based on Espressif ESP32-S2 that includes the powerful Xtensa 32-bit LX7 CPU. An integrated chip antenna, and QSPI memory enable the module to be used in a variety of stand-alone or host-controlled applications.
In this webinar you will learn about everything you need to know about the PAN9520, its rich feature set and especially how to get started in terms of Hardware and Software tools. Furthermore, we will showcase the capabilities of the PAN9520 for smart home CCTV applications.
Agenda
Introduction Panasonic Wireless Connectivity
The new PAN9520 WiFi embedded module
How to get started – the evaluation kit
Toolchain Overview
Demo Case: Using the camera interface with a webserver
Q&A
Follow us on:
Watch>>>Ready For Tomorrow
We are constantly investing in our services and our product range to make sure you are Ready for Tomorrow!
Technical resources
We are continually expanding our library of white papers, technical articles, videos, training modules, tutorials and more to support you in developing your designs, business and career
Newark in North America
Farnell operates as Newark in North America. Newark is a high-service distributor of technology products, services and solutions for electronic system design, maintenance and repair.
Global access, with service that's close to home
Newark has operations in the US, Canada and Mexico, serviced from our regional distribution hub in South Carolina. We are committed to supporting local language, currency, product and shipment needs across North America and around the world. As part of Farnell's global operations, our access to stock and stronger relationships with suppliers, we are better able to serve your needs.
A commitment to innovation that powers change
We have a history of innovation and have developed many industry firsts that save precious time for our Design Engineer customers, such as the first online Community for engineers – element14. More recently we continue to bring the latest technologies to market, from development tools that speed up the design process to modular devices that engineers can quickly and easily build into their devices and the latest in easy-to-deploy artificial intelligence.