Better Power Management Design
Featured Product from Newark, An Avnet Company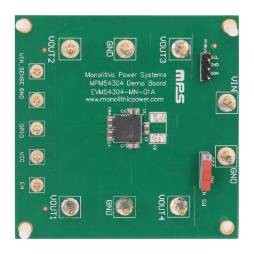 Start Time:

Nov 17, 2021 12:00 PM CDT (America/Chicago)

End Time:

Nov 17, 2021 1:00 PM CDT (America/Chicago)
Techniques and Technologies for Better Power Management Design (Win a Power Module!)
Win a MPS Four-Channel Output Power Module EVM for Asking the Best Questions!
In this webinar, we will share how the latest power modules simplify power design and address several key common challenges. The demonstrations of the latest design techniques will highlight how these improvements apply to high power designs. You will learn the steps to shorten design cycles and improve layout.
We will also discuss how MPS modules can achieve low noise solutions to allow for low noise power supply design without the use of low efficiency LDOs. Additionally, see the process to reduce capacitance requirements while providing ultra-fast transient response. Learn the Latest Techniques and Technologies for Better Power Management Design
See how MPS power modules are used in high power design:
Learn area space saving techniques for easier board layout and increased power density
Simple way to meet low noise requirements • Steps to achieve ultra-fast transient response
See how tools, resources, and digital parts make for a fast proto-types, design, and evaluation
Review applications bringing new designs to market:
Accelerator Cards
Data Center
FPGA
Core Power
Follow us on:
Watch>>>Ready For Tomorrow
We are constantly investing in our services and our product range to make sure you are Ready for Tomorrow!
Technical resources
We are continually expanding our library of white papers, technical articles, videos, training modules, tutorials and more to support you in developing your designs, business and career
Newark in North America
Farnell operates as Newark in North America. Newark is a high-service distributor of technology products, services and solutions for electronic system design, maintenance and repair.
Global access, with service that's close to home
Newark has operations in the US, Canada and Mexico, serviced from our regional distribution hub in South Carolina. We are committed to supporting local language, currency, product and shipment needs across North America and around the world. As part of Farnell's global operations, our access to stock and stronger relationships with suppliers, we are better able to serve your needs.
A commitment to innovation that powers change
We have a history of innovation and have developed many industry firsts that save precious time for our Design Engineer customers, such as the first online Community for engineers – element14. More recently we continue to bring the latest technologies to market, from development tools that speed up the design process to modular devices that engineers can quickly and easily build into their devices and the latest in easy-to-deploy artificial intelligence.