CFP – the efficient choice for SMx footprints
Featured Product from Nexperia B.V.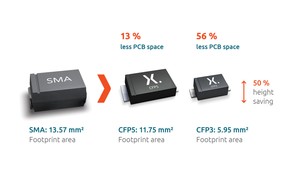 When it comes to power diodes we have relied on SMA / SMB / SMC rectifier packages for almost 30 years. To efficiently meet today's requirements, we need package options that deliver on miniaturization while keeping the same power handling capability. That is exactly where Nexperia's clip-bonded FlatPower (CFP) packages come in.
For diodes and rectifiers Nexperia is offering three clip-bonded FlatPower (CFP) packages to meet the challenging demands of efficient and space-saving designs. These CFP packages offer a future-proof and high-performance alternative for previous-generation SMA-packaged devices. Suitable for automotive, industrial, consumer and computing applications.
Read the blog on this topic: https://efficiencywins.nexperia.com/efficient-products/cfp-the-efficient-choice-for-smx-footprints.html  
For more information please visit:
https://www.nexperia.com/products/diodes/family/CLIP-BONDED-FLATPOWER-CFP/