CMF with ESD Protection for SuperSpeed USB
Featured Product from Nexperia B.V.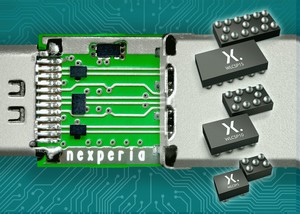 Nexperia, the expert in discrete and MOSFET components and analog & logic ICs, today announced the market's fastest common mode filter (choke)/ ESD protection combination. The new PCMFxUSB3BA/C features the industry's widest differential passband of up to 10 GHz 3dB frequency and a very high surge robustness of up to 7.5 A 8/20 µs. It is designed to suppress common mode and single-ended noise while minimizing the impact on the signal integrity of extremely fast data lines.
Developed to meet the requirements of Super Speed USB applications, the new devices provide effective 1, 2 & 3 line pair protection (Tx +/-, Rx +/-, D +/-) and filtering. Proven for 10 Gbps communications line protection, the filter's system-level robustness exceeds the IEC 61000-4-2 level 4, suiting them for use with sensitive SoCs. The solution also minimizes reflections when compared to a discrete design. The integration of Nexperia's TrEOS technology results in low clamping and high robustness. PCMFxUSB3BA/C extends Nexperia's family of Common Mode Filters (PCMF devices), helping to optimize the choice between differential pass-band and common-mode rejection at signal fundamentals and higher harmonics.
Key Features
One, two and three differential channels common-mode EMI filters with integrated ESD protection
ESD protection up to ±15 kV contact discharge according to IEC 61000-4-2
Superior common-mode suppression over a wide frequency range
Superior RF performance compared to other integrated filters or discrete filters with external ESD protection
Extremely high symmetry between line pairs
Industry-standard Wafer-Level Chip-Scale Packages: WLCSP5, 10 and 15 for smaller footprint
Target applications
Smartphone, cellular and cordless phone
SB3.2, USB2.0, HDMI2.0, HDMI1.4
General-purpose downstream ESD protection for differential data lines
Tablet PC and Mobile Internet Device (MID)
MIPI M-PHY and D-PHY as used in Camera Serial Interface (CSI) and Display Serial Interface (DSI)
Product specs and datasheets available here