Constant current LED driver
Featured Product from Nexperia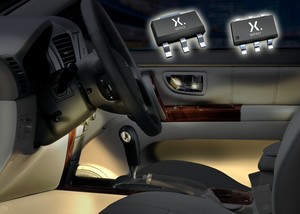 Nexperia, the global leader in discretes, logic and MOSFET devices, today extended its constant current LED driver family with eight new AEC-Q101 qualified devices to drive low- and medium-power LEDs up to 250mA. The 16 V NCR32xx and 40 V NCR42xx series are available in two package styles, the space-saving SOT457 (SC-74) and the SOT223 (SC-73), a slightly-larger option which delivers a higher-power capability of up to 1250 mW.
Nexperia's linear constant current LED drivers are a simple and robust solution to drive low- and medium-power LEDs up to 250 mA – making up the vast majority of applications in the growing LED market. The AEC-Q101 qualified NCR devices are easy-to-use, reliable, cost efficient, and do not affect EMC. Available in four package options.
Features:
High current accuracy
Parallel drivers can be used to increase the current capability
High power capability (up to 1250 mW) for increased robustness
Supply voltage up to 75 V
AEC-Q101 qualified
Tj = 150 °C
Space-saving and future-proof
Easy to implement
Multi-sourcing capable
Applications:
Constant current source
Automotive interior and exterior lighting (Door handles, Dashboard, Number plate light, Indicators, Rear lights, etc.)
Products specs and datasheets available here.