ESD Application Handbook for your Design Solution
Featured Product from Nexperia B.V.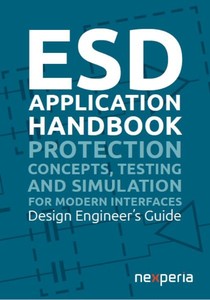 Nexperia's ESD Design Engineer's Guide offers a better understanding of ESD protection topologies, failure symptoms, testing and simulation for modern interfaces.
In this ESD Application Handbook, you will find invaluable information about the causes of ESD, failure symptoms and the necessary steps needed to ensure your design incorporates sufficient protection even for the most sensitive interfaces. It draws on Nexperia's extensive knowledge and understanding of the topic, including the work we have carried out on testing designs and failure analysis. And it introduces a scientific selection process for ESD protection devices, overcoming time-consuming trial and error testing that does not necessarily find the best solution.
ESD Design Engineer's Guide contents
Datasheet parameters of ESD protection devices
ESD testing standards and TLP testing
Principles of ESD protection
SEED (System efficient ESD design)
EMI filtering with common mode filters
Failure symptoms caused by ESD and surge events
Interfaces and applications