Nexperia Power GaN FETs
Featured Product from Nexperia B.V.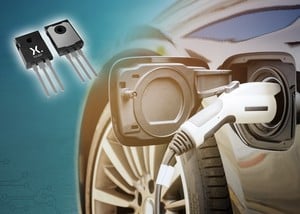 Nexperia's GaN-on-silicon FET technology is ideally suited to address the common design challenges in both automotive vehicle electrification, and telecommunications infrastructure and data centre power supplies.
Offering performance benefits such as superior efficiency with faster switching due to ultra-low reverse recovery charge, and simplified driver requirement possibilities due to high threshold voltage capability and industry-standard gate drive voltages.
800 V transient over-voltage capability and robust gate oxide delivers a product with the robustness and reliability required for demanding applications. And as an experienced supplier to the automotive market we develop our GaN FET technology with the same rigorous attention to detail, with our first products meeting AEC-Q101 qualification.
Developed and manufactured in existing silicon fabs, Nexperia GaN FETs offer high-volume production and scalability to meet growing demands.
With products at 650 V, visit www.nexperia.com/gan-fets for more information