Trench Schottky in CFP Packages
Featured Product from Nexperia B.V.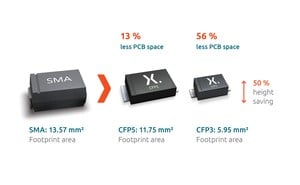 Nexperia Trench Schottky rectifiers in Clip-bonded FlatPower (CFP) packages meet the challenging demands of efficient and space-saving designs. They combine low reverse current, low forward voltage and lowest Qrr to enable best efficiency at high ambient temperatures. Available in three CFP package options with high power capabilities they offer a true alternative to SMA, with better thermal performance, on smaller footprint. For a range of automotive, industrial, consumer and computing applications – ideal in LED lighting, powertrain systems in hybrid vehicles and high-temperature applications.
Key Features
VR max: 40-60
IF max: 1-15
AEC-Q101 qualified
Junction temperature of up to 175°C
High thermal and electrical performance
Applications:
Chargers with battery-powered equipment
Electrical vehicles
High-temp. automotive applications (transmission, engine control units)
LED vehicle lighting
LED backlighting in displays
Powertrain systems in hybrid vehicles