Cooling Fans and Blowers
Product Announcement from Nidec Copal (USA) Corporation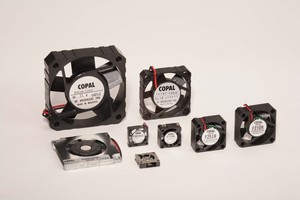 Nidec Copal (U.S.A.) Corp. of Torrance, CA announces a new family of brushless DC sub-miniature fans and blowers suitable for use in office automation machines, video cameras, portable medical and small industrial inspection devices. The tube axial family of sub-miniature fans comes in 2 fan models and 1 blower model. The RoHS compliant F16 (0.650" sq.) tube axial fan develops up to 0.42 CFM at a maximum of 1.88" of water in an intermittent duty cycle operation. Input volt and currents reach 3.3vdc and 20 milliamps, respectively.
The slightly larger RoHS compliant F17HA tube axial fan model (0.699" sq.) provides up to 0.53 CFM with a maximum static pressure of 0.04" of water. Fan speed is 8000 rpm at 5.0 volts and 30 milliamps input. The F17HA fan has an on board optional speed signal.
The F16 brushless blower, model F16BJ, develops a maximum air flow of up to 1.24 CFM with a maximum static pressure of 0.056" of water. Top speed is 5500 rpm with an input of 5.0 volts DC and 40 milliamps. The F16 blower is available with both ball and sleeve bearings, depending on the application requirements. These fans are used in intermittent duty applications for "spot" cooling.
For further information please contact Nidec Copal (U.S.A.) Corporation at www.nidec-copal-usa.com, or call (310) 782-6102 or the company email at info@nidec-copal-usa.com.
---