Vacuum Chamber...world-class manufacturer
Product Announcement from Nor-Cal Products, Inc. - The Vacuum Experts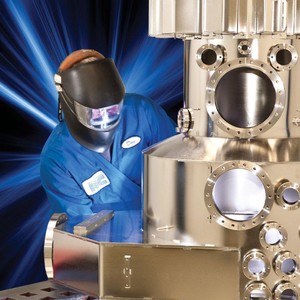 Nor-Cal Products has earned a reputation as a world-class manufacturer of welded stainless steel vacuum chambers for high and ultra-high vacuum applications. The quality, appearance and performance of our chambers are unequaled.
From our 85,000 square foot, ISO certified facility, we supply one-off chambers designed from customer specifications for university or national laboratory research projects, as well as production quantity chambers that are built-to-print for equipment manufacturers. Thin-film deposition and compound semiconductor processing are common applications for our high-vacuum, o-ring sealed chambers that commonly operate at pressures down to 1x10-9 Torr. Water-cooled chamber walls and flanges are commonly provided for high temperature applications, such as MOCVD. Metal seals are recommended for ultrahigh vacuum surface science chambers that operate at pressures in the 1x10-11 Torr range.
In-house electropolishing improves the vacuum performance of 304 stainless steel as well as vacuum fired 316L material for XUHV applications. Nor-Cal can provide cylindrical and rectangular chambers up to about five foot square with doors, stands or Mumetal shields. (Consult the factory for exact capabilities.)
If you would like us to help you with your next chamber project, our estimators can provide a quick quotation from your specifications or drawings. We also offer over 4,000 standard vacuum components that include isolation and pressure control valves, sample transfer and positioning devices, liquid and electrical feedthroughs, viewports and roughing components.
---