StreamPix 5
Product Announcement from NorPix, Inc.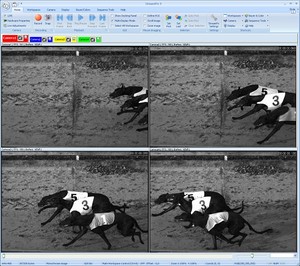 StreamPix is Norpix's flag ship software product. Resulting from more than 10 years of interaction with our vast group of customers, StreamPix has become the ultimate Digital Video Recording software. It offers a state of the art user interface, and an enormous amount of usage flexibility for single or multiple camera recording.
With StreamPix 5, it is possible to view, control and acquire from single or multiple cameras simultaneously, all in the same user interface. StreamPix 5 provides a complete management console for cameras, simplifying the setup, control and acquisition from any number and type of camera. The number of cameras supported is only limited by a condition wherein the combined data rate of the cameras exceeds the internal bus bandwidth or processor capabilities of the computer.
Adding more capabilities to StreamPix is our daily routine at Norpix. Every month, we issue free software updates that include the latest developments, driver updates and optimizations. We are constantly listening to our customer base requests for improving our software and providing you with the best possible customer experience.
Applications:
Motion analysis
Sports
Life Science
Military
Troubleshooting
Turnkey systems available including computer, software and integration
Features:
Real time video recording to PC hard disk or RAM.
Acquire in monochrome or color, from GigE IEEE1394 (FireWire), analog, digital, CameraLink and USB2 cameras (*).
Acquire images as AVI, MOV, uncompressed or compressed with any Windows or Apple compatible CODEC installed (*).
Export images as BMP, TIFF, multi-TIFF, JPEG, PNG, FITS, AVI or MOV.
VCR style controls: Record, Play, Rewind, Fast-Forward, Step and Pause.
Time stamps with iRIGB or GPS.
Color balance, histogram and other real time image processing functions.
Supports a wide selection of frame grabbers and cameras.
For Windows 7, Vista, 32 and 64 bits.
---