Streampix 5 : Video recording for geomapping.
Product Announcement from NorPix, Inc.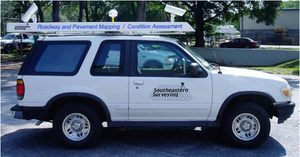 Mobile Imaging Application for Pavement Condition Assessment
StreamPix 5 multiple camera along with GPS data acquisition and DMI information. DMI or distance measurement information is acquired using the MCC4301 and saved along with image data.
Georeference images from NMEA compatible GPS.
Sync image acquisition with DMI output rate: no motion, no image. Image capture rate is sync with vehicule speed.
Adjust capture rate as a sub multiple of the DMI output rate.
Image number, DMI Mile post and GPS Lat. Long. archived to a .csv file.
---