TroublePix from NorPix
Product Announcement from NorPix, Inc.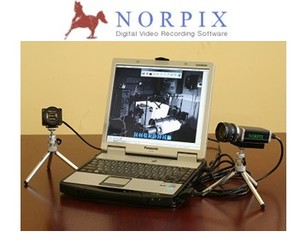 TroublePix, single camera software and hardware solution for event capture, monitoring and troubleshooting your production line.
TroublePix is a digital video recording software designed for factory floor applications or requirements needing a simple user interface. With TroublePix, you can acquire, view and review all within the same user interface. TroublePix provides features such as looping, Pre/Post triggering, event marking and much more.
Quick Links:
Compatible with GigE, FireWire A & B, Analog and Camera Link high speed cameras from various manufacturers. Check the list of supported cameras and frame grabber.
Designed for non technical operators.
Full screen mode, specially designed for use with touchscreen displays.
Solutions available for high speed from 60 to 1850 fps at VGA and high resolution.
Provides quick access to exposed camera/grabber features.
Multiple image display modes with zoom capability.
Lots of keyboard shortcut to speed operation without using mouse
TroublePix200 trouble shooting system with ruggedized laptop.
Available with portable computer or laptop
Lease available: Blue Water Leasing.
---