Norbar Handtorque TM Multiplier 72mm
Product Announcement from Norbar Torque Tools, Inc.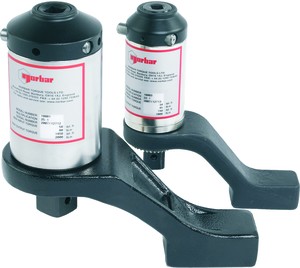 Handtorque HT72 models have all the features of the standard series, but have a higher torque output for a given gearbox diameter.

Product's part number: 18018
Product's NATO number:
Product's Accuracy: +/- 4%
Operates between: 74 - 740 lb-ft
100 - 1000 Nm
Technical Specification
Tool Weight: 2.7 Kg (5.9 pounds)

Multiplication Ratio: 25:1
Output Square: 3/4"
Input Square: 1/2"
Velocity Ratio: 29.752:1
Max Input Speed: 165 revs/min
Plate Weight: 0.66 Kg (1.4 pounds)

Features
72mm diameter allows excellent access.
Guaranteed accuracy of better than +/-4%.
Anti Wind-Up Ratchet available on 25:1 models for easier and safer operation.
A variety of reaction styles are available for maximum versatility.
Electronic torque transducers can be fitted for precise torque monitoring.
Available in a variety of ratios and output square drive sizes.

Play Norbar Handtorque TM Multiplier 72mm Video
---