Norbar SMART Static Torque Transducers
Product Announcement from Norbar Torque Tools, Inc.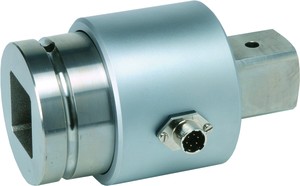 Up to 5000 N.m (5000 lbf.ft) classified to BS7882:2008, typically better than Class 1 for the primary classification range (+/-0.5% of reading from 20% to 100% of full scale).
Robust, heat treated, alloy steel torsion shaft design.
Designed to ignore non torsional forces.
Operates in clockwise and anti-clockwise directions.
Calibration up to 100,000 N.m with a UKAS Certificate.
Calibrated in clockwise direction as standard. Counter-clockwise provided on request.
'SMART' transducers have a built in memory circuit which contains essential information about the transducer. This information can be read by Norbar's 'TST' or 'TTT' instruments meaning that when the transducer is connected, it is immediately recognized and ready for use.
'SMART' transducers can also be used with many other instruments. However, these will operate as normal ratio calibrated (mV/V) transducers - the 'SMART' data will not be read.
---