The 'TrukTorqueTM' Pneumatic Multiplier
Product Announcement from Norbar Torque Tools, Inc.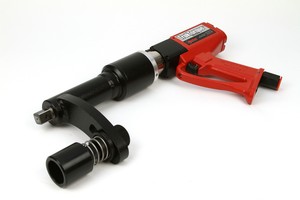 The 'TrukTorqueTM' series of tools was designed for use in the Truck and Bus wheel market.
The integral 'banana' shaped reaction fits the majority of truck and bus wheels, specifically designed to reach rear recessed wheel nuts and across front wheel covers.
Product's part number: 18162.B08
Product's NATO number:
Product's Accuracy: +/-5%
Operates between: 200 - 1000 N.m
147 - 738 lbf.ft
Technical Specification
Length: 500 mm
Weight: 9.4 Kg
Features
Torque from 200 - 1000 N.m (147 - 738 lbf.ft)
Free running speed of 140 rpm for rapid bolt rundown
The integral 'banana' shaped sliding reaction arm is specifically designed to reach rear recessed wheel nuts and across front wheel covers
The reaction socket is spring loaded to locate onto the next available nut for reaction
Robust and lightweight, quick and easy to operate
Compatible with most trucks
---