TrukTorque Pneumatic Torque Multiplier
Product Announcement from Norbar Torque Tools, Inc.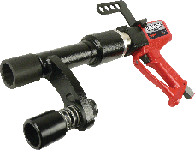 The TrukTorque is Norbars' 2nd generation wheel bolting tool - designed to meet the changing needs of an evolving market.
Torque Range: 147 to 738 lb-ft
Max Free Speed: 140 RPM
Accuracy: +/- 5%
Weight: 20 pounds
1" square drive (3/4" available)
1/2" air input

The unique 'banana' reaction was designed around common wheel geometry, and provides a stable platform for accurate torquing of wheel bolts.
---