Automated Non-Contact Interferometer, Fiber Optics
Product Announcement from Norland Products, Inc.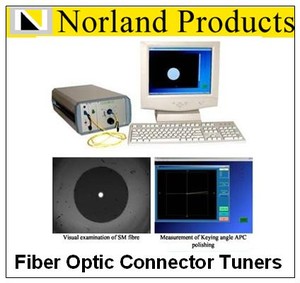 The Norland Advantage Multifiber System is an automated non-contact interferometer designed for measuring the
end face geometry of fiber optic connector surfaces including multifiber connectors, fiber arrays, and single fiber, PC/APC connectors. The Advantage combines the features of Norlands' renowned single fiber interferometer with an improved, higher-resolution multifiber interferometer system. This combination yields the most versatile, easy-to-use system available today for fiber optic testing. More Information...
Quick Links:
Sister Products:

NORLAND CC6000 - Norland Products has taken the knowledge gained from over 20 years of interferometric measuring experience to produce the first low cost, automated, non-contact interferometer for fiber optics .
ACCIS AC-3000 - Fully automated, non-contact interferometric microscope designed for measuring the endface of fiber optic surfaces.
ACCIS AC-3005 - Fully automated, non-contact interferometric microscope designed specifically for measuring the endface geometry of array type structures.
Cleave-Chek - Provides detailed information about the surface condition of a cleaved optical fiber.

Connector Tuners:

Centroc GP - Automated system designed to measure core eccentricity for various types of fiber optic connectors.
CentrocGPM - The CentrocGPM is a specially designed microscope system with dedicated signal analysis software and precision motion control mechanisms.
Centroc1000 - The Centroc1000 is a specially designed auto-focus microscope with high gain imaging. The system performs concentricity measurements of a fiber optic ferrule cavity (ferrule ID) with respect to the ferrule OD using a precision automatic rotation apparatus.
About Norland Products:
For the last 10 years we have been supplying interferometric test equipment to the fiber optics industry. This has been an evolutionary process because of the changing needs of the customers to meet more rigorous standards. By investing the necessary time and money in the computer technology that has become available in the last few years(speed and memory), we have made great strides in advancing interferometric technology to new levels.
Selling to the worldwide market, we get a special satisfaction from doing things no other company is doing. By specializing in certain areas, we have developed a reputation of excellence in our fields. It is this reputation we strive to uphold as we develop new ideas and new products for industry.
---