Newly Designed Surelok III Clinching Machine
Featured Product from Norlok Technology, Inc.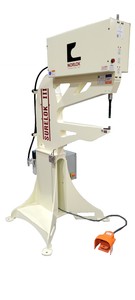 With its versatile design and unsurpassed features, the Surelok III Series of machines outperform the competition like no other. Solid, reliable, the Surelok III will fasten material from as thick as 14 gauge to as thin as 32 gauge with our proven clinching technology.
Join the clinching revolution!

Superior features include...
APU - Advanced Power Unit.
The New Surelok III is Faster, Smoother, Quieter and Uses less air than ever before.
Stainless Steel Ready.
Order your rectangular tool kit and clinch up to 2 layers of 18 Gauge Stainless Steel (304,308,316 etc).
No hassle 2 minute changeover.
5 Tons of Air Power.
The Surelok III clinches material with 5 TONS of force smoothly and efficiently using only 90psi (6 Bar) shop air. Tooling adapters can be design to do other sheet metal work that needs a 5 ton (4535 kg) press.
Adjustable 2 1/2"[63mm] Stroke.
Convenient Adjustment makes accuracy and safety a snap.
The Surelock III Line is the newest Floor Mounted Problem Solver. If you don't see what you need we can customize to suit your application.
Please click on the buttons at the top left of the page for more information or to contact us.

Play Newly Designed Surelok III Clinching Machine Video