The Power Line
Featured Product from Norlok Technology, Inc.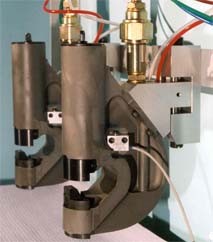 In two-stroke clinching, the material to be joined is first deformed plastically inside a die. In a second phase, the joint is created through a squeezing between the punch and anvil outside of the die. The result is a high quality joint in terms of shape, strength and repeatability.
What's Included:
A complete Power Line unit consists of a compact workhead connected through a hydraulic hose to an air-over-oil pressure intensifier (booster) with automatic cycle control, ready for connection to the
factory compressed air net. An air preparation unit with pressure regulator, filter and water trap, a variety of tool kits, balancer and rotator are available as options.
Advantages:
one tool set for the entire thickness range
sturdy, rigid punches and dies give low tool consumption and minimal operating costs
no separate fasteners to buy, sort or feed
no thermal stress around the jointed area
very good consistency of the joint
rapid, non-destructive testing of the joint
low machine weight
ideal for large workpieces
ideal for joining more than two layers
fastens pre-painted or galvanized material
fastens stainless austenitic steel
fastens materials with foils or adhesive intermediate layers
for narrow flanges and clinching close to walls
Please click on the links to the left for more information or request a quote today!