Watson Portable Clinching Machine
Product Announcement from Norlok Technology, Inc.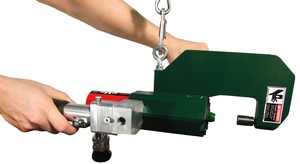 The Watson from Norlok Technology offers all the benefits of clinching in a lightweight version that gives you the portability you need. This compact clinching machine is easy to handle, requires only shop air to operate and can fasten up to two ply 14 gauge material. It is available in both heavy (2-ply 10g max) and medium duty (2-ply 14g max) versions.
Features:
Light weight-for great portability
Two hand operaton-for greater operator safety
Simple tool adjustments-little or no setup time
Close tooling access- get in close for more applications
Air powered-hydraulic booster included
Proven design- for consistent clinches
Easy maintenance-for less down time
Competitively priced-low investment and fast payback
Fully customizable-designs to fit your needs
Download a brochure of the Watson.
Please click on the links to the left for more information or request a quote today!
---