Reshape Toolroom Grinding - Norton Vitrium3
Featured Product from Norton Abrasives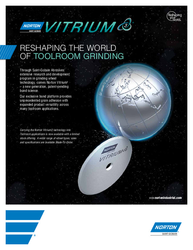 Take your toolroom operation to a whole new level. Our exclusive Norton Vitrium3 bond is reshaping toolroom wheel applications with our new popular-size stock, and made-to-order offering.
1. Coolest cutting
2. Optimized precise profile and form holding; reduced dressing time
3. And increased strength on high-speed applications
Visit the website to learn more about the technology advantages of Norton Vitrium3.

Play Reshape Toolroom Grinding - Norton Vitrium3 Video