3-VALVE DOUBLE BLOCK & BLEED VALVES
Product Announcement from NOSHOK, Inc.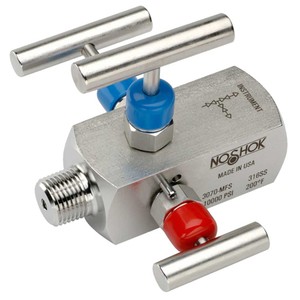 NOSHOK 3070 Series Double Block & Bleed Valves have a 10,000 psi hard seat pressure rating @ 200 °F. The block valve isolates the downstream process fluids, while the bleed valve exhausts upstream fluids enabling instruments to be removed without disturbing the permanent piping installation on the bottom.
The 1/4" NPT vent plug is located 90° to the left and may be removed and replaced with exhaust piping to direct the fluids or gases to a safe location.
---