High accuracy magnetic angle sensor
Featured Product from Novotechnik U.S., Inc.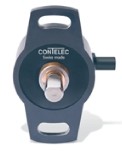 Angle measurements to 360º
Extended life >50 million movements
Up to 14-bit resolution
Independent linearity ±0.1%
Repeatability 0.1°
Sealed up to IP 65
Housing diameter of only 28 mm (1.10 in)
Analog outputs: 0.1 to 10 V, 4 to 20 mA or 10 to 90% of supply voltage
Digital outputs: PWM or SPI
Please click here to view the data sheets
New Customizable Angle Sensors
Novotechnik, U.S. introduces the Vert-X 2800 Series of sensors that measure angular position. These sensors convert rotational angle into an analog or digital output-depending on version.
Users can select a stock part to simply measure angle or they can be configured, using a tool connected to your PC called Easy Adapt, to be application-specific. Possible configurations include start- and end-angles for less than 360° maximum range, index point, cw or ccw indication, calibration settings and non-linear curves.
Vert-X 2800 Series sensors are available in single and fully redundant versions. Measurement range is 0 to 360° with repeatability of 0.1°. Available analog outputs are 4 to 20 mA, 0.1 to 10 V, 10 to 90% of supply voltage and 5 to 95% of supply voltage. Digital output choices are SPI or PWM. Up to two programmable TTL-level switches are options.
Other key Vert-X 2800 Series specifications include housing base diameter of 28 mm, up to 14-bit resolution and linearity to ±0.1 % of measurement range. The sensors are sealed to IP 65, life is ≥ 50 million movements and MTTF is over 100 years.
These sensors are ideal for industrial, medical and off-highway vehicle applications with an operating temperature range of -40 to +85°C and high immunity to emissions -meeting or exceeding five EN 61000 and two EN 55000 standards.
Novotechnik - the technique of being better
Novotechnik introduced the potentiometer into the general machine engineering sector in the 1950s. Since then, the company developed technology used in position transducers and rotary and linear potentiometers that set the standard with outstanding linearity and reliability over an extended operating life.
Today, Novotechnik has developed new technologies that are raising the standard, bringing a new level of linearity and reliability to non-contacting applications.
An international sensor and transducer manufacturing company, Novotechnik's US operations are headquartered in Southborough, Massachusetts while the Automotive Division is located in Livonia, Michigan. Contelec and Novotechnik are divisions of the Siedle Group.
The company develops and produces a wide variety of rotary, and linear position sensors using contacting and non-contacting technologies for a wide range of motion control applications in the automotive, machine engineering, plastics, medical equipment, hydraulic, pneumatic, medical products and control industries.
Novotechnik is world wide certified as one of the first companies to achieve the ISO/TS 16949 certification. This complies with the requirements of the automobile industry - VDA 6.1, QS9000, EAQF, AVSQ - regarding quality management systems.
ISO 9001 Certified