Industrial and motorsport angle sensors
Featured Product from Novotechnik U.S., Inc.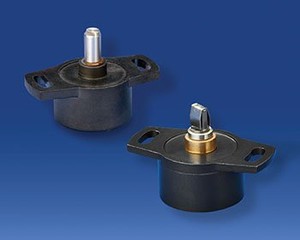 Novotechnik, U.S. announces three versions of the SP 2800 Series of rotary position sensors-industrial, redundant channel industrial and motorsport.
The industrial version is offered in three standard electrical ranges: 0° to 100, 308 or 345° and custom ranges. It is sealed against dust, dirt and water ingress to IP 65 and repeatability is to ≤ 0.03°. Independent linearity is ≤ ±0.3 % for 308 and 345° models. Operating temperature range is 0 to 120°C with temporary, up to 1 hr operation, at 150°C. A two-channel electrically redundant version is available as well.
The motorsport version is offered in five electrical ranges: 0° to 100, 130, 308, 345 or 350°. It is sealed against dust, dirt and water ingress to IP 67 and repeatability is to ≤ 0.01°. Maximum speed is 120 RPM. Operating temperature range is -40°C to +150°C continuously.
Automotive
Novotechnik specialty automotive sensors are found in many millions of vehicles. They are used for measuring steering angle, accelerator pedal, throttle position and other motor management applications.
Common specifications for both versions include life of >50 million operations and mechanical range of 0 to 360° continuously. Maximum vibration is 20 g from 5 to 2,000 Hz.
Custom industrial versions are available in quantity.
Choosing The Right Position Sensor
See our applications page to read about some of the applications Novotechnik linear position sensors and angle sensors are used in. Our Products Page has interactive selector guides to help you choose the best sensor based on your criteria.
Application and new technology information for Motion Control industries:
Sign up for our FREE quarterly Engineering eNewsletter
covering topics in motion control including applications, useful tech tips and videos. Novotechnik will not sell or give out your information.
CAD Files for Novotechnik & Contelec Product Lines
>>>Watch an overview of our linear position sensor line.
Novotechnik - the technique of being better
Novotechnik introduced the potentiometer into the general machine engineering sector in the 1950s. Since then, the company developed technology used in position transducers and rotary and linear potentiometers that set the standard with outstanding linearity and reliability over an extended operating life.
Today, Novotechnik has developed new technologies that are raising the standard, bringing a new level of linearity and reliability to non-contacting applications.
An international sensor and transducer manufacturing company, Novotechnik's US operations are headquartered in Southborough, Massachusetts while the Automotive Division is located in Livonia, Michigan. Contelec and Novotechnik are divisions of the Siedle Group.
The company develops and produces a wide variety of rotary, and linear position sensors using contacting and non-contacting technologies for a wide range of motion control applications in the automotive, machine engineering, plastics, medical equipment, hydraulic, pneumatic, medical products and control industries.
Novotechnik is world wide certified as one of the first companies to achieve the ISO/TS 16949 certification. This complies with the requirements of the automobile industry - VDA 6.1, QS9000, EAQF, AVSQ - regarding quality management systems.
ISO 9001 Certified