P2500-M Multiple Section Potentiometer
Featured Product from Novotechnik U.S., Inc.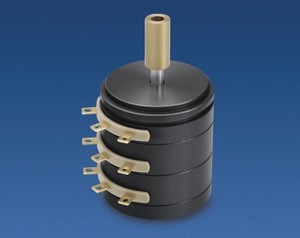 Angle Sensor for Extreme Environments
Novotechnik U.S. introduces the P2500-M Series of multiple-section potentiometers provide redundancy for those applications requiring fail-safe angle measurement.
The P2500-M Series is available in two or three sections and three measuring ranges with angles from 0 to 120, 0 to 240 or 0 to 345 degrees with unrestricted continuous rotation. Repeatability is 0.01° and maximum rotational speed is 2,000 RPM. Independent linearity is to 0.3 % of full scale and interlinearity between sections is factory calibrated to within ±1 %FS.
Life specification of 50 million movements is valid even under high shock and vibration conditions up to 50 and 20 g respectively.
The P2500-M Series features anodized aluminum housing with a stainless steel shaft for enhanced corrosion protection with salt and spray resistance. Axial and radial shaft loading, on stainless steel ball bearings, is up to 15 N.
The P2500-M Series angle sensors operate up to a maximum of 42 V DC supply making them ideal for a range of applications including ship controls, off-highway and construction vehicles.
The P2500 (Multi) is a multiple section version of the proven P2500
2, 3 section versions for redundancy

Up to 6 section versions available (minimum quantities apply)

High precision with repeatability of 0.01°

Very high resolution of 0.01°

Very good linearity and interlinearity

Long life of 50 million movements

Unrestricted continuous rotation

Applications: ship controls, weighing equipment and off-highway vehicles
Follow us on:
Choosing The Right Position Sensor
See our applications page to read about some of the applications Novotechnik linear position sensors and angle sensors are used in. Our Products Page has interactive selector guides to help you choose the best sensor based on your criteria.
Application and new technology information for Motion Control industries:
Novotechnik U.S., Inc.
Novotechnik develops and produces a wide variety of rotary sensors and linear transducers of contacting and non-contacting technologies.
These are used in a wide range of motion control applications in automotive, renewable energy, machine engineering, plastics, hydraulic, pneumatic, and medical equipment industries.
Novotechnik introduced the potentiometer to the machine controls industry in the 1950s. . Since then, the company has developed rotary and linear position sensing technologies that set the standard with outstanding linearity and reliability over an extended operating life.
Today, Novotechnik has developed new technologies that raise the standards, bringing a new level of linearity and reliability to non-contacting applications. These technologies include NOVOSTRICTIVE® magnetostrictive technology, INDRES® inductive-resistive technology, and Vert-X® Hall technology.
An international company, Novotechnik's US operations are headquartered in Southborough, Massachusetts while the Mobile Division is located in Livonia, Michigan. Novotechnik and it's sister company Contelec are both divisions of the Siedle Group.