Biosafety Cabinets for Infectious Disease Testing
Featured Product from NuAire, Inc.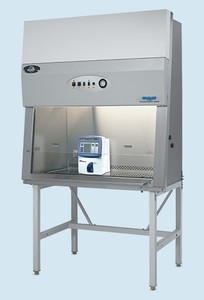 NuAire Biological Safety Cabinets provide personnel, product, and environmental protection against airborne particles that can fit industry standard blood analyzers from GEM, Sysmex, or Picollo perfectly. An infectious disease such as Ebola is considered a virus that does NOT emit gas or vapors. A Class II, Type A2 cabinet that recirculates back into the laboratory works for an infectious disease such as Ebola since any airborne particulate will become trapped within the exhaust and supply HEPA filters.
Warning: Ebola is considered a risk 4 agent and should be treated as such. The Ebola virus and other infectious disease viruses that are considered risk 4 agents are required to be analyzed within a Biosafety Level (BSL) 4 laboratory. NuAire recommends either a Class II or Class III Biological Safety Cabinet to be used within a BSL 4 laboratory in conjunction with BMBL. The cabinets listed on this page are to assist with protective measures provided to the healthcare worker in a point of care laboratory with additional safety protection. Please confer with your Environmental Health and Safety Officer or Biosafety Professional to standardize your Standard Operating Procedures when receiving and testing patients for infectious diseases. NuAire is a manufacturer of Biological Safety Cabinets and does not make risk assessments.