Custom Design Bilogical Safety Cabinets
Featured Product from NuAire, Inc.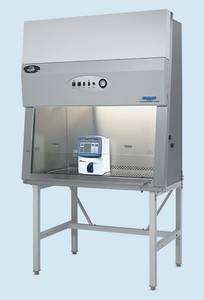 NuAire Custom Class II Biological Safety Cabinets offer Class II protection for personnel, product, and the environment for applications involving high-throughput robotic systems, large high-speed cell sorters, ultra-centrifuges, and laboratory equipment requiring class II protection from potentially harmful aerosols and airborne particles.
For over 40 years NuAire has been universally recognized as the leader in providing laboratory professionals with reliable products for the most demanding environments. NuAire manufactures and provides Biological Safety Cabinets, CO2 Water-Jacketed and Direct Heat Incubators, Laminar Air Flow Equipment, Custom Biological Enclosures, Ultra Low Temperature Freezers, Centrifuges, Small Research Animal Handling Equipment, Pharmacy Barrier Isolators, Polypropylene Fume Hoods and Casework, and variety of complementary products and systems to serve the needs of the world's laboratory community.