High-Speed Refrigerated Centrifuge
Featured Product from NuAire, Inc.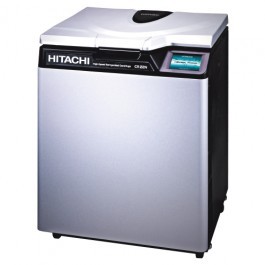 Hitachi Koki himac CR22N High-Speed Refrigerated Centrifuge
The Hitachi Koki model himac CR22N High-Speed Refrigerated Centrifuge offers reliable performance with a maximum RCF of 55,200xg and capacity of 6L for bottles, tubes, or microplates. Patented features such as the Automatic Rotor Identification and Rotor Cover Detector make the CR22N the ideal separation tool for multiple research applications involving DNA, RNA, viruses, proteins, and more.
NuAire Laboratory Equipment Supply
NuAire manufactures ergonomic scientific laboratory equipment providing personnel, product and/or environmental protection in critical research environments.
NuAire inspiration has provided life science, drug discovery, microbiology, animal vivarium, pharmacy compounding, and industrial laboratory professionals with scientific laboratory equipment including biological safety cabinets, laboratory incubators, animal research equipment and more.
Industries:
Serving Laboratory Communities
NuAire core competencies are supplying laboratory equipment throughout various fields of research in the life sciences, clinical diagnostics, animal vivarium, hospital pharmacy, industrial laboratory, forensics, and quality control laboratories. It is our mission to provide quality products, service, and information to a wide range of customers.
NuAire manufactures ergonomically designed laboratory products that assist in cell preparation and analysis by delivering sterile environments to help grow, separate, and store your research in various fields of biology.
The medical laboratory performs tests on clinical samples to receive information on a patient's health. NuAire provides a variety of laboratory equipment to assist in the diagnosis, treatment, and prevention of a patient's disease.
The animal vivarium houses laboratory animals in a controlled environment. NuAire animal laboratory equipment protects research animals and technicians through HEPA filtration and laminar airflow.
Millions of patients have health care needs that only mixed prescriptions can aid in their continuing health. Compounding pharmacists mix drugs to fit those needs. NuAire manufactures pharmacy equipment that meets U.S. Pharmacopeia's (USP) <797> standard for compounding sterile preparations.
The industrial laboratory delivers research throughout various fields and markets including automotive, water treatment, and semiconductor. NuAire laboratory products provide a sterile environment for product, protection for users, environmental protection through HEPA filtration, as well as provide a corrosive resistant and static free environment for your research and production applications.
The Forensic Laboratory performs examinations of evidence in scenes of crime. NuAire Laboratory Equipment assists technicians in research while working with controlled substances. Provide personnel protection and product sterility when handling blood, body fluids, and/or tissue cultures. Produce a static free environment when performing trace analysis. Enhance your laboratory's longevity with corrosive resistant casework.
The Food and Beverage Quality Control Laboratory conducts research on samples taken throughout the manufacturing process to ensure product quality and safety for user consumption. NuAire laboratory equipment is the ideal fit to ensure product sterility, personnel protection, and/or environmental protection when performing biological testing.