LabGard AIR Biological Safety Cabinet
Featured Product from NuAire, Inc.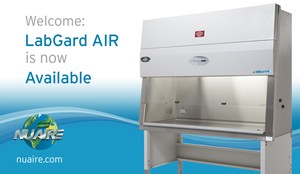 LabGard AIR is a Class II, Type A2 cabinet specifically designed to meet the demanding needs of today's research facilities. With a demonstrated concern for safety, multiple opening options, and variable output scenarios, the LabGard AIR is the answer to your lab's needs.
With an ergonomic design and monolithic construction, the LabGard AIR cabinet is a sturdy and functional addition to your facility. It features three available opening sizes: 8-inch, 10-inch, and 12-inch. The 8-inch opening offers a lower operating cost while the 12-inch offers a 40 percent larger reach for your technicians. The ergonomic features also include an armrest to reduce forearm and wrist strain while leaving the air flow system fully operational. This cabinet is available in widths from 3 to 6 feet to suit a variety of lab layouts.
The FlowGard system uses an airflow sensor to control your airflow in real time and display it on the easy-to-read OLED display. Depending on the biologics being used in your lab, you can choose to recycle the airflow in the cabinet, vent it to the HVAC system for low-grade contaminants or a combination of the two. HEPA filtration is standard and is attached to the plenum assembly.
We know safety is a major concern for you. That's why each LabGard AIR cabinet features a plenum under negative pressure pressure at all times, reducing the risk of airborne leaks.