NuWind Multi-Application Bench Top Centrifuge
Featured Product from NuAire, Inc.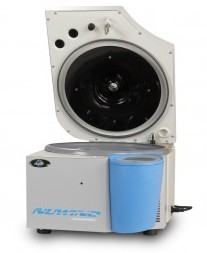 NuWind Centrifuges ---big on capacity but smaller in size. Change rotors within seconds to move from one application to the next. A large assortment of rotors, inserts, and accessories are available for any type of protocol in cell culture, bio-production, blood separation, microbiology and more.
Smaller in Size, but Big on Capacity
The NuWind centrifuges offer the largest capacity available relative to its footprint. Using a 5 ⁄16" (8 mm) thick steel shell NuWind minimizes its exterior footprint saving you more bench space while improving safety. This compact construction and safety allows NuWind to add more capacity while reaching the highest speeds on the market.
Click-Spin
Click-Spin allows technicians to exchange rotors in the simplest and fastest way possible; no tools are needed.
Align the rotor with the motor shaft and it will sit and lock itself. Once installed, an audible "click" will notify you the rotor is properly installed. When switching rotors, take hold of the red section of the rotor and spin it clockwise while holding the body of the rotor. An audible "click" will sound and your rotor will then be unlocked from the motor shaft. You can now easily remove it.
Click-Spin technology is available as a standard option on all our rotors.