Win a NuAire Biosafety Cabinet
Featured Product from NuAire, Inc.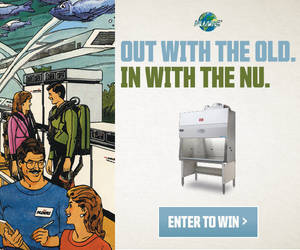 We're giving away a brand new LabGard NU-540 Biosafety Cabinet - configured, shipped and installed for free.
Nothing lasts forever but our Biosafety Cabinets (BSCs) sure try. We've been making Biosafety Cabinets for nearly 50 years. With more than 100,000 customers worldwide, we wondered, "What's our oldest piece of equipment still in use today?" So we're asking you.
Snap a photo of your vintage biosafety cabinet, show proof of use and fill out a quick form. If yours is the oldest, you'll win a brand new unit for free.
Contest beings March 26, 2019, at midnight CST and ends on August 2, 2019, at midnight CST.