Tuning knobs with collet fixture
Featured Product from OKW Enclosures, Inc.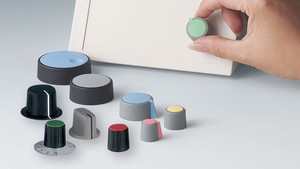 Stylish and robust range of collet knobs in a large choice of sizes and designs
The OKW range of tuning knobs with the tried and tested collet fixing system is ideal for rotary potentiometers, or rotary pulse generators, with round shaft ends in accordance with DIN 41591. They are also available with a touch function. Our latest operating elements combine special technical features with a contemporary appearance. This includes optional LED lighting, flush fitting, function-oriented marking elements, modern choice of colors etc. Select the tuning knob whose size and design best meets your special requirements.