OKW's Top-Knobs
Featured Product from OKW Enclosures, Inc.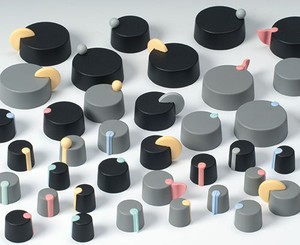 Uniquely modern tuning knobs
Our TOP-KNOBS are unique in design and are thus the ideal solution for users looking for that special something. Individual marking element define the function of the tuning knob and give your equipment a modern, contemporary appearance.
aesthetically pleasing knob design *** iF product design award***
lateral fixing screw for axis corresponding to DIN 41591 or for flattened ends
individual, functional marking elements, e.g. for fine calibration, clip into the sides and hide the lateral fixing screw
the fixing technique rules out any possibility of contact with live parts
recessed underside to allow for external potentiometer fixing nuts
modern color combinations
Applications
For rotary potentiometers with shaft ends corresponding to DIN 41591 or with flattened ends ø 6/4.6 mm.
Measuring and control technology. Medical and wellness devices. Laboratory equipment. Heating and air conditioning. Communication equipment. Building management.