Star-Knobs
Featured Product from OKW Enclosures, Inc.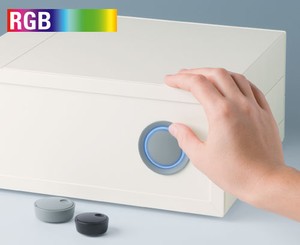 Modern Illuminated Tuning Knobs
Our STAR-KNOBS are designed for menu driven interfaces, click rotation and click push-in for 'OK'. This reduces the number of knobs and controls required on the front panel. The illumination is a visual highlight and enhances user operation of the equipment.
innovative design for flush fitting or surface mounting
the flush-fitting version represents an attractive transition between the knob and the front of the device; the knob can be illuminated, that is, a ring lights up between the recess and the knob cover
with the surface-mounted version, the knob design makes a great impression thanks to the slight inclination of the body towards the inner axis, thus allowing ergonomically comfortable operation; the knob is mounted on an approx. 3 mm high ring, which can be illuminated if required
illumination possible with modern, energy-saving SMD LED technology for power supply units with 5 V: either white backlight for the colors diamond, ruby, emerald and sapphire or RGB backlight for individual colors as accessory
knob with or without knurls
cover with or without finger recess for fine adjustments
tried and tested collet fixture system with secure fit on the axle
max. torques: assembly = 1.5 Nm, function = 1.2 Nm
Applications
For rotary potentiometers or rotary pulse generators with round shaft ends in accordance with DIN 41591, including touch function.
Measuring and control technology. Health Care. Heating and air conditioning. Communication devices. Building management.