Digital Pressure Gauge DPG409S
Featured Product from OMEGA Engineering, Inc.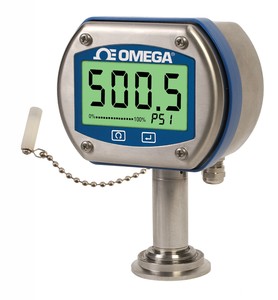 OMEGA's new DPG409S Sanitary/Clean-In-Place (CIP) digital pressure gauges incorporate a rugged 316 SS enclosure designed for washdown and marine applications with a precision 0.08% accuracy pressure transducer with 316L SS wetted parts and body. This pressure gauge is tested to industrial CE standards with a durable design that makes it perfect for harsh industrial environments. It is available in Gauge, Absolute, Compound Gauge, Vacuum and Barometric models, and features an easy to read 25 mm (1 inch) backlit LCD display, hi and lo alarms standard, MIN/MAX/AVG reading, and user selectable analog output 0 to 5 Vdc, 0 to 10 Vdc or 4 to 20 mA. The battery powered DPG409S has a long battery life with data logging and charting software included.