Long Range Wireless Transmitters
Featured Product from OMEGA Engineering, Inc.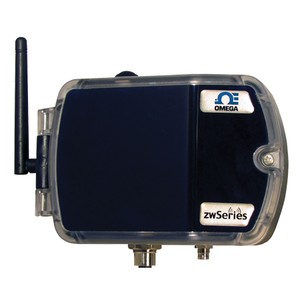 Omega makes it easy and affordable to create a reliable wireless monitoring system for your ope rations. Many of our transmitters are weather-resistant and we have models designed to deliver a range of data such as voltage, current, temperature, humidity, barometric pressure, and pH. We even have compact models and transmitters with long-range capabilities. Create a wireless monitoring system that you can rely on for consistent performance. Shop the wireless transmitters at Omega and get the high-quality equipment you need for less.
1000 m* (3280') Range
Data Assurance
Up to 128 End Devices per Receiver
2 Year Battery Life
NEMA 4 (IP65) Enclosure
Battery Backed Real Time Clock
This rugged high-performance, long range and low power consumption OMEGA®
ZW-ED wireless sensor/transmitter system provides web-based monitoring temperature, humidity, and barometric pressure.
The radio is an IEEE 802.15.4 compliant transmitter operating at 2.4 GHz designed to transmit up to 1000 m* (3280') to a ZW-REC coordinator. The ZW-REC connects directly to an Ethernet network to serve active web pages and display the data. You can monitor and record temperature, relative humidity, and barometric pressure over an Ethernet network with no special software-just your web browser.
These wireless devices are designed for demanding industrial applications indoors and harsh outdoor environments. The electronics are protected in a rugged weatherproof polycarbonate NEMA 4 (IP65) rated housing. A variety of compatible probes are available to suit your application.
* Without obstructions or interference