Multi-Function Thermal Hygrometer
Featured Product from OMEGA Engineering, Inc.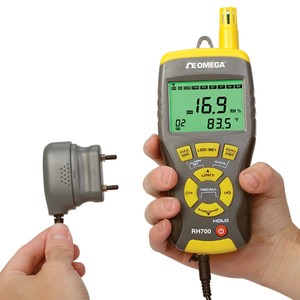 The OMEGA® RH700 precision invasive/non-invasive moisture meter reads a multitude
of important humidity and moisture values including ambient temperature, relative humidity, absolute humidity, relative moisture level using a pinless sensor, absolute moisture level using included pin-type probe, dew point temperature, and more! Log up to 8000 data points internally for download and display in graph or table format, or simply store and recall readings on the LCD display. The RH700 is ideal for water damage restoration contractors, facility maintenance professionals and HVAC system installers/technicians.