Stainless DC Loop Powered Digital Pressure Gauge
Featured Product from OMEGA Engineering, Inc.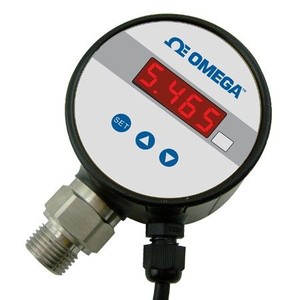 DPG110 is an electronic digital pressure gauge used to monitor hydraulic fluids. It monitors the pressure via the resistance measured on an isolation membrane. The output signal is amplified by a high-precision, low-temperature drift amplifier. The signal is then fed into a high accuracy A/D converter for the microprocessor to process and then show on the LED display.
This flexible, simple to operate digital pressure gauge is safe, reliable and easy to maintain. The DPG110 is widely used in hydro-power, water, petroleum, chemical, mechanical, hydraulic, and other industries.
Intelligent Two-Wire System 4 to 20 mA Working Mode, 4-Digits 0.56" Digital LED Display

Full Digital Push-Button Calibration for Zero and Full Scale, No Potentiometers, Low-Temperature Drift

Reinforced Anti-Jamming Design is Suitable for the Electromagnetic Environment and Harsh Industrial Environments

IP65

0.25% FS Static Accuracy

Oxygen Service Cleaning Available