Noise & Vibration Analyzer - Ultraportable OR34
Product Announcement from OROS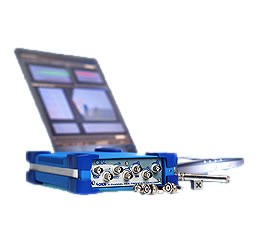 OR34 Compact Analyzer
2 or 4 channels, 1.4 kg (3 lbs)
Real-time bandwidth 40 kHz
± 10V Inputs, 24 bits, ICP®
100 Mbits/s Ethernet
AC/DC power supply
2 external triggers/tachometer inputs
1 generator output
OR34 is the compact real-time multi-analyzer that integrates the best of noise & vibration analysis technology in an ultra mobile instrument. OR34 is the synthesis of the ultimate OR3x technology and OROS' wealth of experience in measurement. Designed to offer the essentials in a professional instrument, OR34 will follow you everywhere. Choose OR3OR34 4 and go straight to the essentials.
OR34 has been designed to handle day-to-day measurements. OR34 integrates the best of OROS' 15 years of experience in designing and manufacturing noise and vibration analyzers. This instrument contains the essential functions covering the entire measurement process in a compact unit. It addresses numerous application domains such as rotating machinery, industrial acoustics and structural analysis.
Weighing less than 1.4 kg (3 lbs), OR34 is the lightest analyzer of its class. OR34 is ultra-portable and can be carried easily along with your laptop for intensive use. Its exceptional robustness makes it the instrument you can trust.
OR34 is designed for professionals working in the field as well as in labs. Its rigorous design, based on high quality materials and electronics (aluminum case and independent power supply) ensures stable and accurate measurements in all situations. This makes OR34 the most reliable solution for mobile dynamic signal measurement and analysis.
OR34 is based on OR3x technology, the breakthrough in dynamic measurement systems. Created by OROS for measurement efficiency, OR3x innovates in both hardware and software architectures.
NVGate®, the OROS Noise and Vibration software platform, controls all the analyses and measurements carried out by OR34 . As part of OR3X analyzers range, OR34 benefits from the innovative functions developed for the biggest systems. Offering parallel analysis capabilities, OR34 opens a new dimension focusing immediately on any part of the measurements. Whatever the situation, on-line measurement or office post-analysis, you run the same software applications, with or without OR34 connected.
NVGate® features are:
Analyzer setting browser and project manager Outlook® like,
Plug-in analyzers for: multiple FFTs, 1/n Oct, Order analysis,
Simultaneous recording of time domain signal,
Complete reporting tools to Word®,
Dedicated modes for structural, rotating and acoustics,
User define control panel, and preferences,
Mask editor and alarms,
Macros, sequence and TCP/IP control,
Calibration suite.
---