Innovative Optoelectronics Integrated Products
Featured Product from OSI Optoelectronics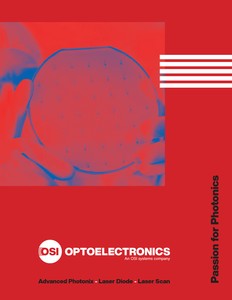 OSI Optoelectronics is the leading global provider of innovative photonics,
optoelectronics and advanced electronic systems for leading Aerospace & Defense,
Medical and Industrial Original Equipment Manufacturers (OEMs). These demand high reliability, high-performance and market-driven technology solutions today.
Our advanced optoelectronics and electronic assemblies are key to enabling critical functions such as analytics and monitoring, test and measurement, communication, tracking, and imaging in a wide variety of industries including:

• Aerospace & Defense
• Medical & Life Sciences
• Automation & Industrial Production
• Automotive & Consumer Electronics
OSIO's design and manufacturing operations are housed in 12 world class
facilities around the globe, where our team of experts designs and develops premium photodetectors, laser diodes, imaging and medical sensors, photonic modules and instruments. These resources, combined with more than 50 years of experience in the
field of optoelectronics, have given OSI Optoelectronics the expertise to develop incredibly efficient manufacturing processes that exceed the rigorous standards set by our customers.


See our standard & custom optoelectronic products & capabilities