Handheld or Tripod Corona Finder Camera
Featured Product from OX Creek Energy Associates, Inc.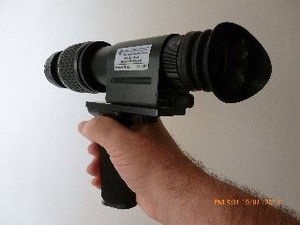 The CoronaFinder has been developed to meet a need in the electrical R&D laboratory, inspection, and other industry applications typically over relatively short distances (1.5ft to 200+ft), out of the carry case and power switch instant on. The UV sensor gain is auto-regulated to protect the sensor and provide a quality, easy to use display.
The optional digital camera / camcorder to SD memory card storage is easy to record and download images for annotation, and report preperation. The digital camera can also 'zoom' on the CoronaFinder display as shown above.
An optional video camera with image and video storage software that can be used to document test sequences on your computer (Win XP, Vista, 7 OS).
Thru Ox Creek Energy you have the option to purchase, rent-to-own, or monthly rental of the CoronaFinder and options, call 1-800-531-6232 or email for details.
Contact Specialized Camera Sales at 1-800-531-6232 or (920)255-5510 or by email to discuss your special imaging application (typically non-visible) and we can package a system to meet your needs, along with camera operation training and specialized infrared or corona technology training.