Add Value & Use to Drones
Featured Product from Ofil Ltd.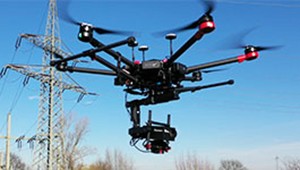 DayCor® micROM-HD is an innovative UV corona camera designed for use on UAV or inside
minute gimbals. It is light in weight, has low power consumption and supports most
commonly used communication protocols. micROM-HD is the first micro HD camera with
dual sensors: Solar Blind UV and visible light and is, therefore, capable of detecting and
imaging corona in daylight. The camera offers on-board recording in real time of both UVc
radiation and the radiating sources, providing a means to pinpoint faults and investigate
corona partial discharge. With its DayCor® camera core and special filters, micROM enables focusing on corona while reducing distracting noise. Interfaces to GPS, temperature and humidity sensors enable adding specific data embedded in the recordings. micROM-HD is easy to integrate using a supplied set of commands that control all camera functions. The HD imaging serves well the need for detailed clear views of remote/high specific elements and of installations. micROM-HD is offered both as a camera core that fits well into a wide range of gimbals and as a block camera for most small UAVs with optional customizing.