Cost Effective Corona Detection Solution
Product Announcement from Ofil Ltd.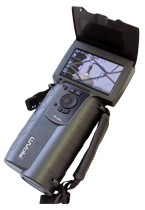 -
Practical, Powerful, Precise, Affordable
UVollé- is used for predictive maintenance by electrical utilities in HV and MV installations, OHT lines, distribution, substations, Mines, Industrial plants, data centers, hospitals etc. that must maintain the ongoing operation of their assets with very little tolerance to unscheduled shutdowns.
UVollé cameras are manufactured under adherence to rigorous quality control standards.
Features
High sensitivity to UV signals – certified

Outstanding corona & arcing detecting capabilities

Precise location of corona emitting sources

Effective powerful optical zoom

High resolution sun readable WVGA LCD

On-board storage via Compact-Flash Card

MPEG Video (VX model)/Audio on-board recording and storage

JPG on-board capturing function

Playback on-board for images and videos (VX model)

Powerful on-board LED for indoors and outdoors inspection

Manual and Automatic focus for both UV and Visible channels

Integration mode for larger signals and reduced background noise

Corona counting for evaluating condition and for comparison

GPS, Temperature & Humidity meter interface

Voice narration

Backlit keypad for easier control in dark compartments

Light and ergonomic design

Hot keys to functions

UV only, Visible only and Combined UV + Visible modes

Benefits
Accurately pinpoints sources of corona, partial discharge, micro arcing and arcing that may lead to: audio noise, radio/TV interference and electrical mechanical failures

Saves inspection duration by providing immediate imaging results

Built for continuous work without overheating

Extended battery run time operation

Available accessories:
Wide field of view lenses

Macro lenses

Remote control

Temp & humidity sensors

GPS

EPRI Inspection guide

Corona Inspection Classes
---