DayCor ROM - Aerial HD Inspection System
Featured Product from Ofil Ltd.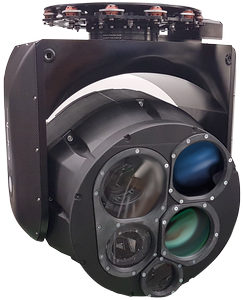 » Fiber Optic Gyro
» High sensitivity to corona
» High flight performance
» Set for high speed
» FAA | EASA conformity
» HD cameras: UV, IR, TV, PHOTO
» Radiometric readings
» Auto tracking
» Geo pointing
» Geo Lock
» RTcA DO 160G avionic std.
A powerful high-speed inspection solution for aircraft, equipped with combinations of outstandingly highly sensitive, high definition (HD) sensors in a gyro stabilized payload platform. ROM meets the need for stability, accuracy, functionality, convenience and qualitative data collection. The system incorporates a selection of HD sensors in the ultraviolet, infrared & visible spectral ranges, with a photo camera and LRF. Designed by the RTCA DO 160G environmental standard, DayCor® ROMHD is a premium choice for airborne inspections to detect from remote faulty electrical components. The collected data includes imaging and radiometric readings of all installed sensors with detailed meta data. ROMHD can be used for fire detection and with some adjustments for oil spill mapping.
HIGH SPEED UV INSPECTION
High sensitivity to UV enables the detection and capture of distant corona discharge during high speed flight of 100 km/h without smearing the output image and without missing corona events.

STABILIZED PAYLOAD
Uniquely designed, the payload has high precision 4-axis fiber optic stabilizing gyro and passive vibration to ensure superior stabilization. Special care is taken to ensure noise-free, crystal clear image transfer. Fit for most FAA or EASA approved aircraft mounts

GIMBAL REMOTE CONTROL
Ergonomically designed with integrated high resolution (HR) touch screen and an intuitive menu to control both the sensors and the turret. Extra fine tuning and saved preset setup profiles add flexibility and agility
SUPERIOR PERFORMANCE
With high accuracy, excellent image quality and long wave solar reflection immunity ROM provides an outstanding performance for most applications. The system is customized per specific customers' needs and can include various combinations of inspection technologies.


EASY INSTALLATION & LOW WEIGHT
Gimbals are made of a lightweight structure and composite covers. Installation is simple and standard.

VIDEO RECORDING & STORING
Throughout the flight videos from the sensors are displayed on a spilt-windows monitor and recorded onto findings can be recorded and stored onto a portable memory. Recordings may include radiometric readings of: corona strength, hot spots temperatures, GPS, date & time, pressure gauge and humidity. Audio narration & annotations can also be added.

DATA MANAGEMENT SYSTEM
Data Management System provides pinpointed information about the scanned grid such as identity of each installation, past performance, past recorded events, failures, route, etc. Data is retrieved during flight and displayed synchronized with geographical and/or topographical maps.

DAYCOR® TECHNOLOGY INSIDE
With DayCor® inside, the UV camera is fully solar blinded allowing operation under all daylight conditions [Registered Patent EP1112459B1].


TCU - TURRET CAMERA UNIT & CONTROL UNITS (ACCOMMODATED TO CUSTOMER'S REQUIREMENTS)

Type Four (4)* axis active steerable gyro-stabilized gimbal
Stabilization <10 μRad
Weight Approx. 32.5Kg (71.7lb) (depending on configuration) )
Power Requirements 20-30 VDC, 395W (depending on configuration)
Environmental Specs RTCA – DO160 G
Coverage Az | Coverage El Full 360° Continuous | +9° to -189° (can be increased for final)
Gimbal Remote Control - GCU One unit for the gimbaled turret and sensors with integrated 7" high resolution touch screen, extra fine tuning knob and preset setup profiles
Storage and Operation Temp Storage -20°C - 60°C | -4°F - 131°F
Operation -15°C - 40°C | 5°F - 104°F

ROM-EYE HD UV - VISIBLE BI-SPECTRAL CAMERA
Minimum Discharge Detection 1pC @ 15 meters (DIN EN 60270 (VDE 0340):2001-08)
Minimum RIV Detection 3.6dBμV (RIV) @1MHz @10m (NEMA107-1987)
Minimum Sensitivity to UV 1.9x10-18 watt/cm2
Field of View H x V H:10° - 1.6° | V: 5.6° - 0.9°
Detector Life Span No degradation
Focus Auto focus, 3m to infinity
UV/Visible Overlay Accuracy Better than 1 mRad
Video Resolution & Interface HD (1280x720px), 60Hz, HDMI