If Seeing Corona is What You Need Consider This
Featured Product from Ofil Ltd.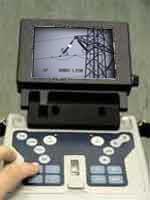 Characteristics
Superb is the most sensitive bi-spectral Visible-UVc detection apparatus with absolute solar blind performance and with high pinpointing resolution.
Superb integrates latest technological innovations and human engineering considerations with dedicated specialty optics, proprietary UV filters, upscale imaging components, and light weight body.
Superb unique design enables long continuous inspection and eliminates arms and eyes strain.
Superb is manufactured under adherence to rigorous quality control standards.
Features
High brightness high resolution large VGA colored LCD
On-board storage via Compact-Flash Card
MPEG Video/Audio on-board recording and storage
JPG on-board capturing function
Playback on-board function for images and videos
Fit for inspection under any light and weather conditions
Manual and Automatic focus for both UV and Visible channels
Zooming capability of both UV and Visible
Integration mode for larger signals and reduced background noise
Blob counting and display for evaluation of the corona strength
Reporting software
One-touch button functions operations; no need for menu browsing
Multi lingual display - optional
UV only, Visible only and Combined UV + Visible modes
Accessories: GPS, title editor, voice recording, remote control
Benefits
Accurately pinpoints sources of corona, partial discharge, micro arcing and arcing that may lead to: audio noise, radio/TV interference and electrical mechanical failures
Saves report processing time by proprietary reports generating software
Enables continuous work without exerted strain on arms or eyes
Built for teamwork
Reliable with the highest sensitivity possible
Daytime inspection saves night shifts rates, is safer and more efficient