Motos Workshops Can Detect PD Under Light
Featured Product from Ofil Ltd.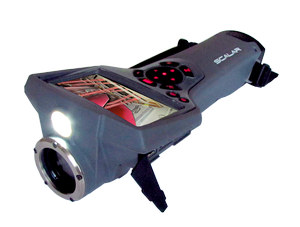 Scalar is a bi-spectral UV-Visible imaging corona camera for indoors maintenance tasks. The camera detects UV signals, identified as corona discharge, and pinpoints their origin. Incepted signals are superimposed and presented as a unified image of both the UV and visible sources. Scalar detects 15pC from 1 meter and 43.9 dBµV in 1MHz. in dark as well as in lit rooms. The camera features a wide field of view of 15º x 11º and can focus from distances of 0.5m to infinity. Scalar is a digital camera with real-time video and stills recording, pre-defined sets of profiles, powerful led flashlight, contrast optimizer, a selection of corona colors, and a very long running time rechargeable battery.
DayCor® Scalar is used by Electrical utilities, Service contractors, Mines, Motors workshops, Heavy industry, Manufacturing for QA, Electricity faculties, Thermal & Ultrasonic users
Includes:
UV imager with standard ultraviolet lens
AC power supply that serves to recharge the battery
A rugged lithium ion rechargeable smart battery 3 Hrs
SD memory card
Rugged, hard carrying case
Shoulder carrying strap
Soft transport bag
Adjustable hand strap
Printed user's manual
Warranty registration card
Mini USB A / B / AB to USB host cable
1 Rechargeable battery (3 Hrs.)
Lens cover
Features
Detect and pinpoint corona and arcing sparks with patented technology
Capture video clips and still images
One-handed, easy-to-use user interface
Transmissive 4.3" color, 800 x 480 pixels LCD with 600 cd/m2 reflective, adjustable backlight
Playback of video and stills
On board powerful led flash light
Rechargeable, field replaceable smart batteries with OSD indications to show charge
Digital 3 stages UV zoom
Wide FOV of 150x110
Very light weight of 0.85Kg,
Sleek design with backlit buttons